2022 MSHS Schedule & Rule Changes
2022 Modern Street HEMI Shootout Schedule
---
Mar 25-27 (MSHS Sun)

April 15-16

Virginia Motorsports Park

May 13-15

June 10-11

Heartland Motorsports Park

Aug 18-20

Milan Dragway – Detroit HEMI'nsanity/Dream Cruise

Oct 20-22

Maryland International Raceway
♦First date of all events is a pre-event track rental. HEMI'nsanity is race Friday and Dream Cruise Saturday.
➡️ FINAL STAND – Battle of the Brands (Non points event) ⬅️
Nov 11-12
Cecil County Dragway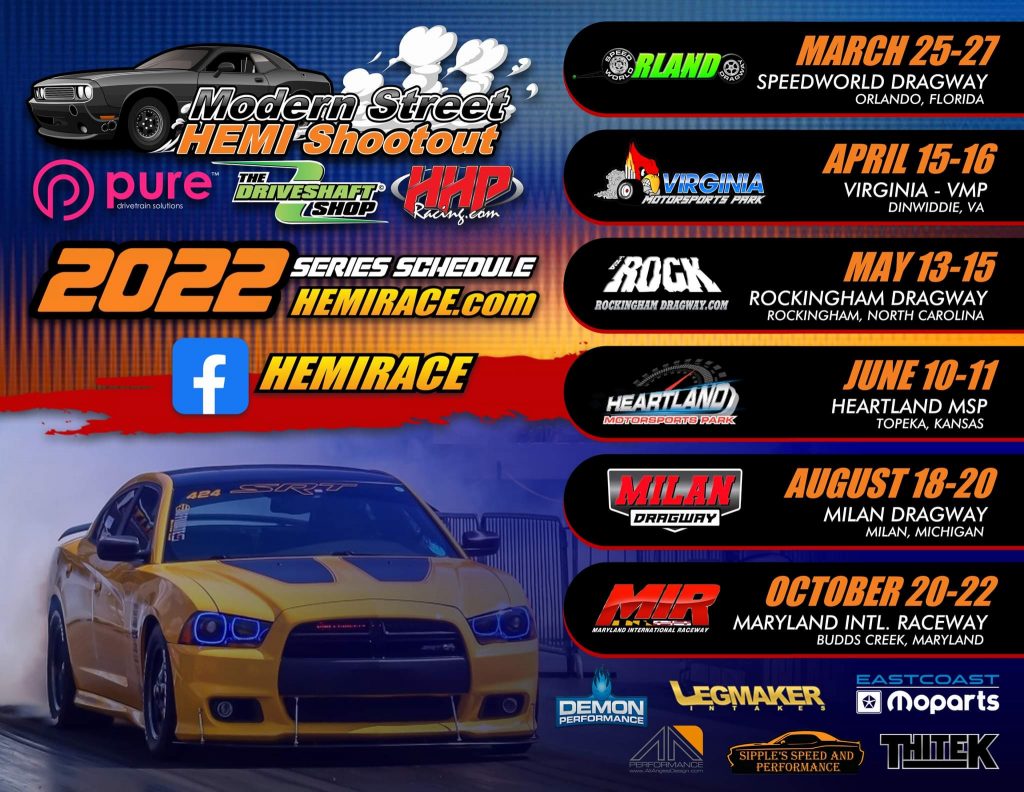 ---
---
2022 Modern Street HEMI Shootout Rule Changes (updated as they are made) 11/14/21
General rules
Incentive BONUS points for non-MSHS events are no longer in place
Championship points are only earned at MSHS events
Best 60 foot award will be split into two awards – best IRS and best NON-IRS.
Best 1/4 mile ET will include Heavyweight passes during elims if racer provides their slip for proof of ET (time stamp must be provided).
Outlaw cars attempting 1/4 mile records will be allowed time permitting
Grudge races must pay MSHS $100 lock in money regardless of whether the race happens. NO MORE BS MATCHUPS.
HEMI Outlaw
Cars must be capable of 5.40 or better to compete in the class. If the car does not achieve that ET during quals, proof via previous class performance, time slip or video is acceptable. Slower than 5.40 cars fit in the 8.50 class perfectly
IRS equipped cars receive a 100 lbs weight reduction
Cars must have an oil retention device
Cars must meet NHRA/IHRA safety requirements for ET
Increase to class entry fee planned with the additional monies added to expected class purse
Class winner is no longer eligible for KOTH.
** Reminder: If a competitor is attending an event to earn class points with an alternate vehicle, they can run in a secondary class. At the end of the season the appearance points transfer to their primary championship class. This is to keep cars running in the appropriate class and still allow racers to earn appearance points as designed.
8.50 Index
cage and oil retention device required
2nd class will be bracket
Heavyweight
oil retention device required
2nd class will be bracket
Removed 2nd chance runoff
⬇️⬇️ Weight changes
🔸️4200 lbs – OEM supercharger
🔸️4200 lbs – Nitrous only
🔸️4300 lbs – Aftermarket supercharger/single turbo
🔸️4500 lbs – Dual type regardless of config (boost plus nitrous)
🔸️4500 lbs – twin turbo or compound boost
🔸️3000 lbs – N/A
**All weights are with driver.
9.50 Index
cage required
full points and full season class sponsored by Holmberg Motorsports
10.00 – no change
10.50 – no change
11.50 – no change
12.50 – no change
Bracket – no change
Rookie – no change (non-points class, not eligible for KOTH)
2021 Drag Pak Shootout (details TBD, non-points class, not eligible for KOTH)
Boost n Juice (details TBD, non-points class, not eligible for KOTH)