2022 Featured MSHS Racer Scott Boegler
Our latest Modern Street Hemi Shootout racer feature looks at Scott Boegler from American Muscle Performance, who has been participating in the series since its inception. Boegler has run a few different vehicles in the series, but he is currently racing a 2008 Dodge Challenger SRT8, which he has been driving for just a few months. During his time with the MSHS, Scott has a handful of wins and second-place finishes, most recently finishing 2nd in the ThiTeh Heavyweight class in Virginia after winning the Heavyweight class at the 2022 season opener in Florida. In addition to MSHS events, Boegler has participated in Street Car Takeover events in the past with other vehicles and this year, he plans to attend the Yellowbullet Nationals along with some NMCA events.
Scott Boegler's current Dodge Challenger SRT8 was built by True Street Performance and American Muscle Performance. It is powered by a 426-cubic inch Gen 3 Hemi, fitted with ThiTek cylinder heads (of course) and a ProCharger F1R supercharger. This engine was built by Scott's shop – American Muscle Performance in Florida – with the tuning provided by AJ Berge of Hemituner and Gary Rhudy of GR Motorsports. Power is sent to the wheels by means of a Turbo 400 transmission and a Gforce 9-inch rear differential, maintaining the independent rear suspension system.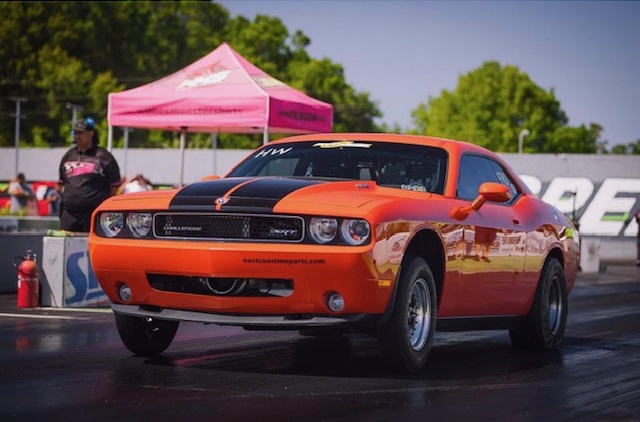 Scott has a run a best time of 8.20 at 169 miles per hour with this Challenger SRT8.
His goal for the 2022 MSHS season is to win, but he points out that he hopes to race with his family and friends as much as possible. "I'm no in it to win per say; I enjoy my Mopar community in general. I've made lifelong friends because of this platform, including the love of my life".