2022 Featured MSHS Racer Dan Mortenson
Today's Modern Street Hemi Shootout featured racer is Daniel Mortenson, who has been participating in the series with his 2016 Dodge Challenger SRT Hellcat named "Roxy" since 2017. In his time with the series, Mortenson took 2nd place in the 9.50 class in Orlando in 2018, 2nd chance winner in Heavyweight class in Orlando 2021,1st place in Heavyweight Virginia 2021, 2nd place in Heavyweight at the Rock 2021, 3rd place in heavyweight Michigan (car would not start in the semifinals otherwise would have won that one), 2nd place in Heavyweight in Houston 2021 and he won the Heavyweight Championship for 2021 season.
Mortenson had this to say about his time racing his Hellcat Challenger, with both the MSHS and other events.
"I bought Roxy in November 2015 out of Chicago, it was exactly what I was trying to build/order. I started racing in Atlanta in 2016, which is where I met Sumit Goyal at the track. I then went on the Hot Rod Power Tour in 2016 and 2017. I met Jerome Helcat Stone at Houston during the Power Tour, along with Chris and Karen Shawver. I also met Z back in 2016 while racing at No Problem Raceway in NOLA. For about a year or two me and Sumit would go and run the 1/2 race in Ga, but then the 1/4 mile and racing in the MSHS was where Stacy Brock my Fiancé and I had the most fun with our extended race family.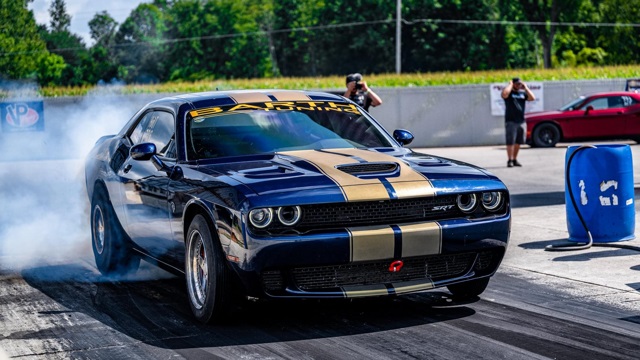 When shit breaks at the track, going through 4 sets of G-Fore axles last season, it is all hands on deck with help from Tim Barth, Jon Siplle, Tim Holmberg and Chris Shawver – we even had Brandon Wilkenson under the car in Houston. The cradle moving was what was causing all the half shafts that were breaking."
Mortenson's Dodge Challenger is powered by a 6.2-liter Demon/TKM engine with Diamond pistons,Carillo rods, ThiTek Big Bear cylinder heads, a 4.9-liter Kenne Bell superchager, Kooks headers and "a little NOS", with the tuning handled by Tim Barth. Power is sent to the wheels by means of a Sipple Speed and Performance transmission, a chromoly driveshaft (because he breaking 4-inch aluminum shafts) and a G-Force 9-inch rear differential with a 3.25 Pro gear (after breaking the stock 3.0 gear).
"She is a handful. Once we got to the 160 mph in the 1/4-mile in Virginia, Tim Barth, Jon Sipple, Tim Holmberg and Chris Shawver were like "Danny time for the cage, Shute, trans and engine diaper."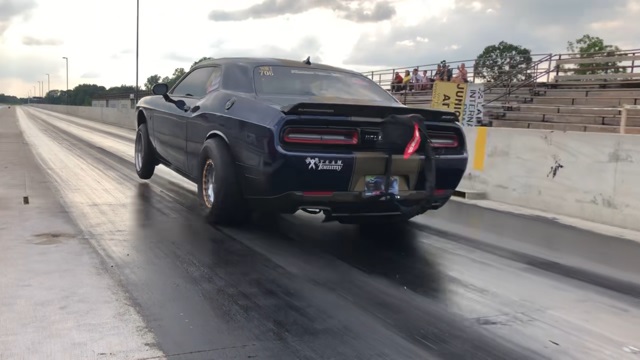 Helping control the car is a set of AAD front and rear trailing arms along with Menscer double adjustment front and rear shocks.
Mortenson's best ET in his Hellcat Challenger was an 8.38 at 166 miles per hour, with a 1.24 60-foot time and a 130 trap speed in the 8th mile. Those numbers were run in Houston in 2021 with a DA over 2,80 feet, but they had a bigger problem than the weather at that event. With more than 1,600 horsepower and 1,400 lb-ft of torque at the rear wheels, the rear cradle kept moving, even with lockouts. The crew went so far as to add turn buckles and straps to keep it from moving, but it didn't work.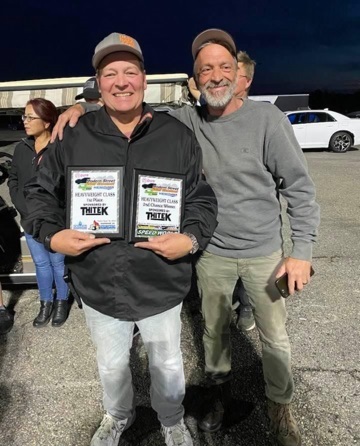 During the off-season, Mortenson "went a little overboard". He bought a Ray Barton 426 with Diamond pistons, Callie Ultra-Rods, a Winberg billet crankshaft, billet main caps and ThiTek Big Bear heads from Steve Ripa – as a backup engine. Next, he bought an Acme 4-link rear setup to prevent more broken half shafts, along with an AAD chromoly engine cradle. He had the Demon/TKM motor refreshed by AJ Berge, with new pistons due to wear around the wrist pins. During the refresh, Berge told Barth that that the bearings and rings all looked good, but Mortenson as at his limit in terms of power with this engine – right around 1,700 rear wheel horsepower. The transmission was also refreshed by Sipple Speed and Performance with some "special parts to handle all of the power", along with a trans brake and a two-step to have him get off of the line a bit quicker. Finally, some weight was pulled out and replace "where needed".
Mortenson's goals for 2022 are to "push 2000+ rwhp threw the 426, get Roxy into the 7's and mid 7's with good DA, win the Heavyweight title again for 2022, have fun with our race family and less broken parts".