2022 Featured MSHS Racer Matt Kesatie
Today's Modern Street Hemi Shootout feature highlights one of the most controversial racers in the series – Matthew Kesatie. If you aren't familiar with his name, you won't know why he is controversial, but if you do know his name, you know him as the guy who races the Mustang in a Mopar series. Kesatie participates in what he calls the Memon- a 2012 Ford Mustang GT powered by a 2018 SRT Demon engine. After assisting a few other racers in 2020, Kesatie and his Demon-powered Mustang began competing in the Hemi Outlaw class in 2021 and has continued racing with the series in 2022. Participating in the Outlaw class puts Kesatie and his Mustang in the fray with the quickest modern Mopar race cars in the world, so he has not won an event yet, but his Hemi-powered Ford is routinely one of the quickest cars in the field.
Kesatie offered this input on his time racing with the MSHS and racing in general, with his unique Ford Mustang.
"I ran streetcar takeover in Bradenton this year and made it to the finals in their fastest class. Other than that it's been mostly the MSHS stuff. I'd like to do some more cash days stuff but it's sort of tough. Most of the 1/8 mile stuff down here is NT and since I have shown times I'm not allowed in. Most of the heads up stuff is 1/4 which I really don't have the safety equipment for, so I'm kinda stuck on that somewhat until I update the cage and equipment. The car has far exceeded my expectations for how fast it went. I wanted a car that might break into the 4.99 and it did that right away without trying. Then once I decided to lean on it a bit more it started going 4.8x without really trying. So now I'm just at a point where I'm asking myself how fast will this thing really go. I haven't really turned it up. I just tweak it a little here and a little there and it just keeps getting faster. The combo is exactly the same as it was at the beginning of last year and honestly it's the same suspension and chassis that I have run for quite a few years before."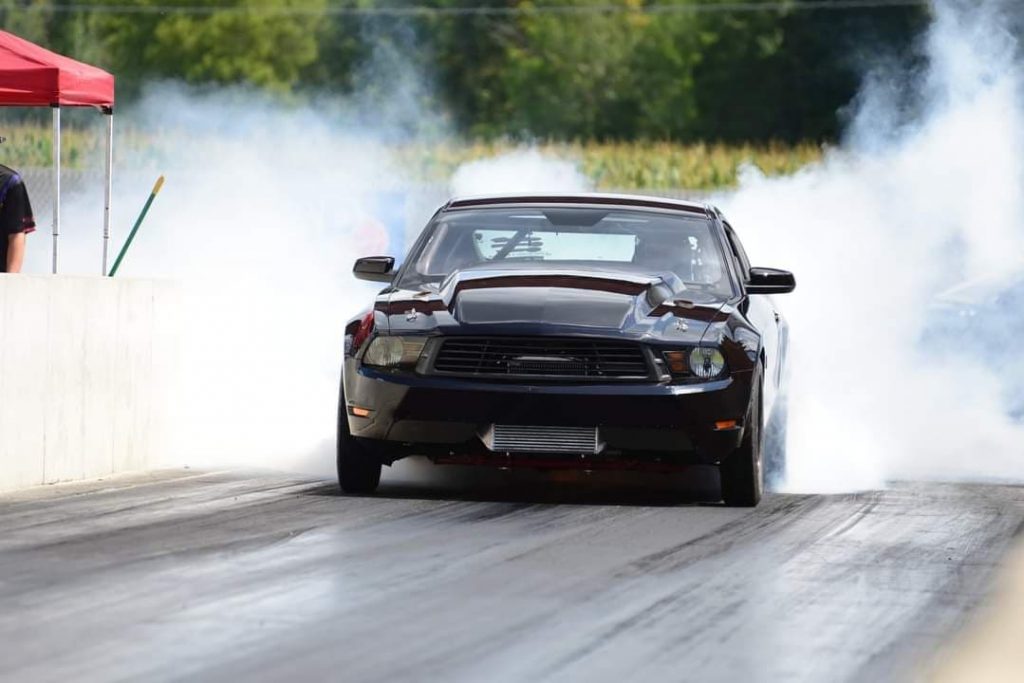 Kesatie is the engine builder for Geadhead Fabrications, so he has played a key role in building many monster modern Mopars. With that in mind, he took his 2012 Mustang GT in installed a 2018 Demon engine block with the factory crankshaft, Boostline connecting rods, custom CP pistons spec'd by Kesatie, ThiTek cylinder heads, a custom Comp camshaft spec'd by Kesatie, a Plazmaman billet intake manifold ID2000 injectors, Stanke Motorsports rocker girdle, Manton pushrods, Johnson lifters and – most significantly – twin Boost Lab 7675 turbochargers with V-band inlets and outlets and T51R compressors. Kesatie built and tuned this engine himself using Holley EFI. In fact, all of the work on the Memon was done by Keasatie, with the exception of the turbo kit, which was handled by Mario at Gearhead Fabrications.