Sat/Sun July 11-12, 2020
RACE INFO
Track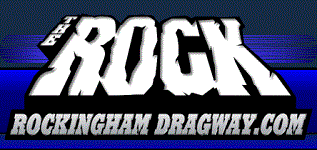 Phone
910.582.3400
Fax
910.582.8667
Address
2153 US Hwy 1 North Rockingham, NC 28379

Hotel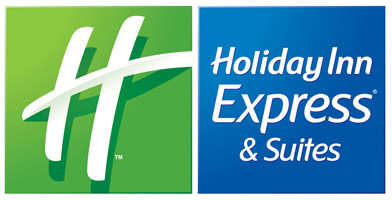 Holiday Inn Express & Suites Rockingham
Phone
910.817.7288
Address
800 East US Highway 74, Business Rockingham, NC 28379

Social
Additional Information
FM station: 100.5
The Modern Street HEMI Shootout heads back to North Carolina for our 4th consecutive year and its sure to be a great once again. Come on out to the track the day before the event for some testing during our Pre-event track rental and look for two days of Mopar racing to follow.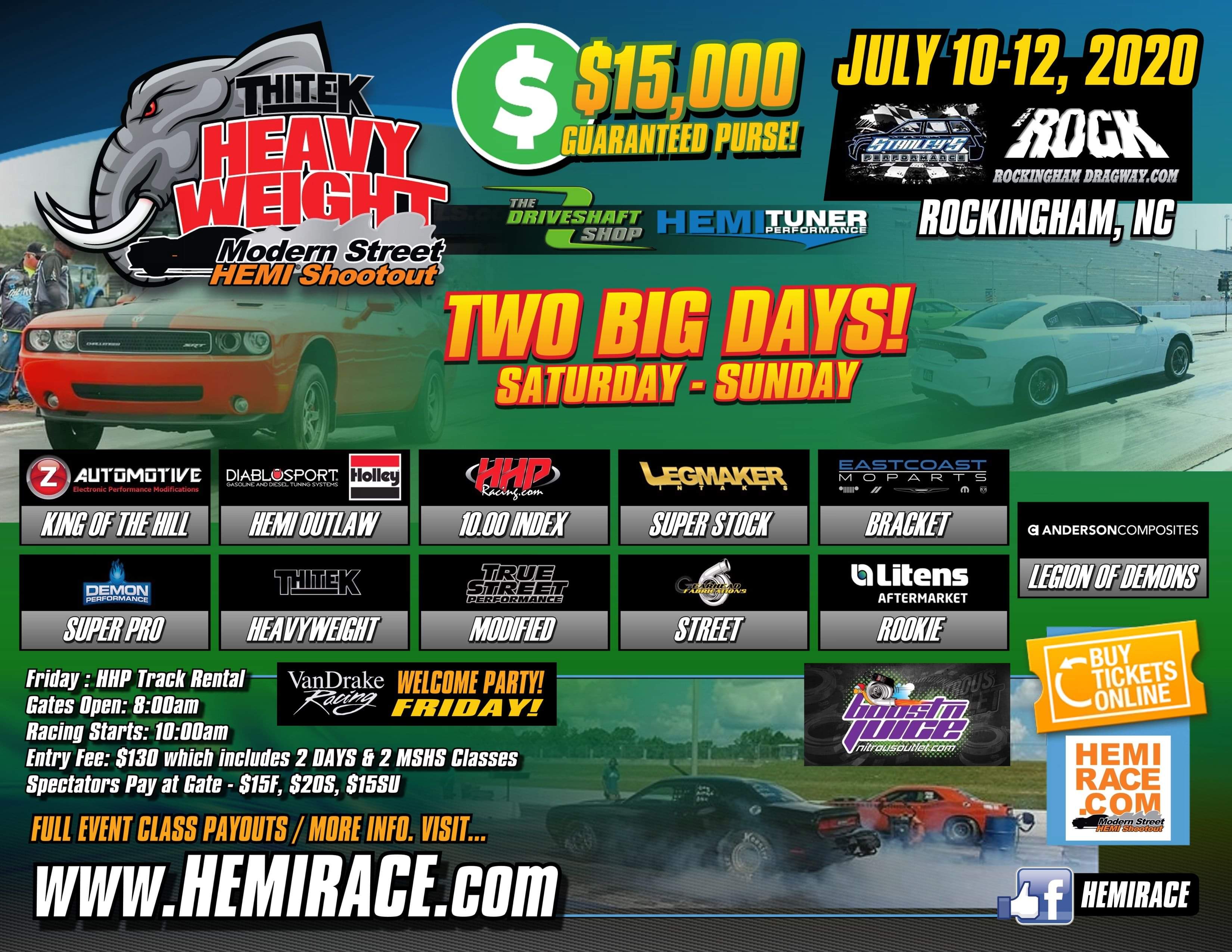 Tentative Schedule:
Friday July 10th
High Horse Performance pre-event track rental
8am gates open
VanDrake Racing welcome party at Caddy's Chill & Grill
8pm – ?? (Free food and drink to prepaid Modern Street HEMI Shootout racers)
Saturday July 11th
Stanley's Performance MSHS day 1 w/Mopars at the Rock

Run Diablosport & Holleyperformance MSHS HEMI Outlaw Class to its completion
Run eastcoastmoparts.com Bracket Class to its completion
Run Nitrous Outlet Boost 'N Juice Class to its completion
Run Litens High Performance Rookie Class to its completion
Rest of the classes will run qualifying throughout the day…..
Sunday July 12th
Stanley's Performance MSHS Day 2 (only MSHS racing)

Run the following classes to their completion:
Demon Performance 8.50
ThiTek Heavyweight
HHP 10.00
True Street Performance 10.50
Legmaker Intakes 11.50
Gearhead Fabrications 12.50
Anderson Composites Legion of Demons
Z Automotive King of the Hill
$15,000 prize pool with $2,000 to King of the Hill
Excited to add the Nitrous Outlet Boost N Juice Class to this event….. details TBA!
Race classes:
Z Automotive – King of the Hill (dial in)
Diablosport/ – HEMI Outlaw (1/8 mile heads up)
Demon Performance – Super Pro (8.50 index)
High Horse Performance – 10.00 index
True Street Performance – Modified (10.50 index)
Legmaker Intakes – Super Stock (11.50 index)
Gearhead Fabrications- Street (12.50 index)
East Coast MoParts – Bracket (dial in)
Litens High Peformance – Rookie Class (dial in)
Anderson Composites – Legion of Demons Class (heads up – requires 6 preregistered)
Nitrous Outlet- Boost N Juice
RSVP on Facebook: HERE
CLASS RULES: HERE
CAR NUMBERS: HERE
PAYOUT INFO: HERE
2020 HEMITuner Performance MSHS @ ATCO