First in the 7s!!
September 2013
Congrats to Al Genarelli and Team AGR on being the first ever Gen III Hemi powered Challenger into the 7's. On September 28th 2013 Al's Purple Drag Pak Challenger driven by Brent Hughes, ran 7.85 at 176 mph. The time slip may be ruffled but it reads clear as a bell showing without a doubt that the Arrington built Aluminum 449 cubic inch motor powered by twin Precision Industries 67mm turbo's is the world record holder.
We are proud to say that Al Genarelli has been a racer in the Modern Street HEMI Shootout since its first event at Bradenton Motorsports Park February 2010. Brent is no stranger to the series either being the driver for Mike Smiths record holding Blue Bee. Brent in the Blue Bee has the current record for the series Super Pro Class at 8.98 at 160 mph.
Al in his soft spoken manner had these few words to share:
"I want to say we have a great team and that's what it takes to do something like this!
I also would like to thank….
Paramount Performance
API
Rollbar
Kevin
Brent
Ed Foxe
Matt Glad
AJ
Tout
Hope I got everyone if not Thank you too!"
View the Slip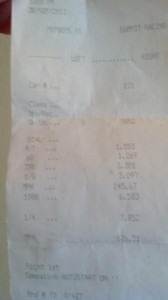 Watch the Video Here